Food Manufacturing Insurance, Texas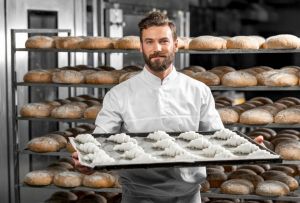 Protect Your Food Business With Texas Manufacturing Insurance
As a food manufacturer, you'll need insurance that meets the requirements of your business and covers you for all potential disruptions and costly incidents.
Such as; equipment breakdown, employee injury or food contamination, severe weather, fire, distracted driving, and accidents that can impact shipping and delivery.
At the Thumann Agency, we understand the unique challenges faced by your food business, and we offer the right services and products to help you protect it.
In general, food manufacturers should consider the following types of business insurance:
Commercial Property

Workers Compensation

General Liability

Commercial Auto

Umbrella/Excess Liability
These coverages will help protect property, employees, customers, vehicles from lawsuits, workplace injuries and other hazards that can be devastating.
Commercial property insurance. Protects your manufacturing facilities and their contents, from office equipment to heavy machinery, in the event of theft, fire, weather events, vandalism and other covered perils.
Workers Compensation. Protect's your employees from the costs associated with workplace injuries and illnesses.
Commercial general liability. Provides broad liability protection for property damage and bodily injury to third parties caused by your negligence.
Commercial Auto. Protects your vehicle's and drivers in the event of an accident. As well as providing coverage for bodily injury liability claims and property damage, vehicle damage, and medical bills, as well as any costs related to lawsuits due to auto accidents involving your vehicle fleet.
Umbrella/Excess Liability. Provides liability protection above and beyond the liability coverage included in a commercial general liability and business auto policy. A commercial umbrella policy would pay when your other liability coverage has been exhausted.
Who needs food manufacturing insurance?
Bakery products
Candy & Confectionery
Craft breweries/wine/spirits
Coffee/tea/ other drinks
Dairies
Frozen foods
Fruits & vegetables
Meat / poultry / seafood
Pet foods
Processed foods
The Thumann Agency specializes in all commercial insurance.
Not only can our agents find the best manufacturing insurance policy for your company at the most competitive rate, but your agent will be able to assist you with every aspect of your business coverage, from property coverage to general liability, and more.
---
Related articles: