Restaurant Insurance, Texas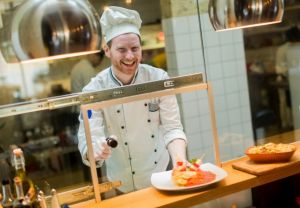 Protect Your Business With Restaurant Insurance
When shopping for Restaurant Insurance in Texas, the specialists at the Thumann Agency are here to help you customize a plan that works for your business and your budget. From the family-owned bakery to the national franchise, we provide coverage for a large variety of restaurant types.
As a Trusted Choice Insurance Agency, we represent over 80 top-rated insurance companies that not only offer the best rates but also deliver a superior standard of protection.

---
What Kind of Insurance Does a Restaurant Need?
Restaurant Insurance protects you and your business from a myriad of problems, from broken equipment to liability lawsuits. All of which, can arise from your business operations. Insurance coverages include:
Business Owner's Policy
​​​​​Your business owner's policy, known as a BOP combines your General Liability Insurance and Property Insurance, offering small restaurants a discount on both - a good way to save money on your insurance. Most policies also include Business Interruption Insurance, which reimburses you for lost income if your restaurant has to close down while it rebuilds or repairs after a covered property loss event.
General Liability Insurance
General Liability Insurance provides essential lawsuit protection. If a customer, employee, or delivery person gets injured on your property, GL Insurance can cover the lawsuit. General Liability also covers lawsuits over advertising injuries, damaged reputations, third-party property damage, and foodborne illnesses.
Liquor Liability Insurance
In Texas, it is required that any establishment holding a liquor license must carry liquor liability insurance. Many states including Texas, have laws that hold restaurants responsible if they serve alcohol to an intoxicated customer who goes on to cause an accident, injure someone, damage property, or cause other problems. Liquor Liability Insurance covers the cost of lawsuits arising from these issues.
Property Insurance
Property Insurance covers furniture, kitchen equipment, buildings, and other property that the restaurant owns. In the case of theft, fire, windstorms, or other covered events, your insurance company will reimburse you for the cost to replace and repair your property.

Workers' Compensation Insurance
​Workers' Compensation Insurance protect's employees from the expense of workplace illnesses and accidents. This insurance policy is almost always required by law and covers lost wages and medical expense for employees hurt on the job. Many policies also come with Employer's Liability Insurance, which shields you from the cost of a Workers' Comp lawsuit by paying any legal bills and damages you owe to the injured employees.
Employment Practices Liability Insurance
Employment Practices Liability Insurance covers lawsuits when a restaurant owner is sued for workplace harassment, discrimination, or inappropriate termination. If your business is hit with an employment lawsuit, EPLI can cover your settlement costs, lawyers' fees, and legal expenses.
Commercial Auto Insurance
Commercial Auto Insurance is a vital policy for your restaurant, If your business owns the vehicles it uses for event catering, deliveries, or other work purposes. Commercial Auto Insurance protects restaurants from the medical, legal, and repair costs that can result from a car accident.
---
How Much Does it Cost to Insure a Restaurant?
Keep in mind that these restaurant insurance quotes are only estimates. Your policies might cost less or more depending on your restaurant's location, size, and other factors.
General Liability Insurance for a small restaurant can cost between $500 and $6,100 in annual premiums.
Property Insurance for a small restaurant generally costs $1,000 to $2,250 in annual premiums.
Business Owner's Policy on average costs $1,150 to $10,600 in annual premiums.
Workers' Comp costs vary dramatically depending on the type of restaurant. Premiums range from $620 to $9,800, with fine dining restaurants generally paying higher premiums.
Employment Practices Liability Insurance typically costs restaurants $1,000 to $8,150 in premiums each year.
Commercial Auto Insurance generally ranges from $1,200 to $2,500.
Liquor Liability Insurance policies for small restaurants cost between $350 and $2,800 annually.
Umbrella Insurance policies generally cost from $400 to $2,500 a year for a small restaurant.
---
Who Needs Resturant Insurance?
All food and restaurant related businesses need some type of insurance to help get them back on their feet, should a coved loss happen. Examples of the different types of restaurant insurance we offer to food businesses include:
Bar Insurance

Food Trucks

Deli Insurance

Cafe Insurance

Catering Companies

Fast Food

Food-delivery Insurance

Pizza Restaurant Insurance
Have Questions? Call (972) 991.9100
---
Additional Resources: