Commercial Truck Insurance, Texas | Thumann Agency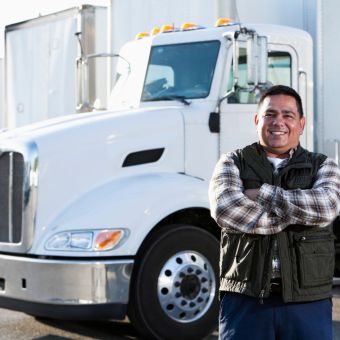 For over 20 years, Thumann Insurance has been providing Commercial Truck & Trucking Insurance for truckers throughout the entire state of Texas. We provide solid insurance policies from top-rated companies for your commercial trucking insurance needs. We can quickly tailor a package just for you that meets all of your specific truck and trailer needs while remaining squarely within your budget.
What Does Commercial Truck Insurance Cover?
Commercial Trucking Insurance in Texas is very similar to auto insurance in Texas. Policies are available with several types of insurance coverage to fit each trucker's specific needs. Commercial Truck Insurance policies are specially designed to protect your business and your personal assets. Thumann Insurance can provide you and your truckers with excellent coverage including:
Commercial Truck Liability Insurance
Commercial Truck Liability Insurance covers your liability risks if you or one of your drivers has an accident. Your policy will include bodily injury liability to cover the costs of any injuries and/or medical expenses for the injured party. You will also have property damage liability to cover the costs of any property damage resulting from an accident. Your Commercial Truck Liability Insurance will also cover the expenses of your legal defense.
Physical Damage Coverage
Physical Damage Coverage covers any damage to your vehicle from an accident or other incidents. It also includes comprehensive coverage that pays for damage from theft, vandalism, and non-collision causes. Physical Damage Coverage also includes collision coverage.
Uninsured Motorists Coverage
Uninsured Motorists Coverage covers any costs of damages and injuries to you or one of your employees when the other driver is at fault but has no insurance. This ensures that you, your truck, and your employees get the assistance you need - when you need it.
Does my Truck Insurance Cover My Trailer?
Depending on your insurance cover, your trailer attached to your truck may or may not be covered. It is crucial to have a thorough understanding of your policy to know how you are protected in the event of a collision.
Many insurance providers may use an ambiguous language where if there is a collision involving your trailer, it will not be covered because technically, the truck was not damaged. This situation can end up being a costly mistake.
Other insurance policies may only cover your trailer if you own it; however, if an accident occurred involving your truck while you tow a trailer, it may not be covered. We offer comprehensive truck insurance policies that would cover your trailer in the event of an accident. Chat with one of our representatives to learn more about how we can protect your truck and trailer in Texas.
What Does Non-Trucking Insurance Mean? What Does It Cover?
Non-Trucking Liability (NTL) insurance coverage protects drivers when they use their truck for non-business related purposes. NTL insurance helps provide more thorough coverage for the motor carriers' primary liability policy.
Non-Trucking Liability insurance coverage can be tricky to determine when it is applied. Since most truck drivers navigate across multiple states, many variables can influence if the driver is protected, including which route the owner took, the number of non-business stops, and if the driver was pulling a trailer.
Also, the window to utilize NTL insurance is smaller than a Primary Commerical Auto Liability policy. Chat with a member of our team to learn more about which policy would be best for you and your business.
Types of Commercial Truckers Insurance
There are many types of commercial truck insurance policies. Commercial trucks involve various kinds of large vehicles, including:
Semis (tractor-trailers or 18-wheelers)

Dump trucks

Garbage trucks

Car haulers and auto trailers

Tow trucks

Flatbed trucks

Tank trucks

Box trucks
Cost of Commercial Truck Insurance
The cost of trucking insurance is determined by several factors. Including:
Your business type

Your driving radius

Your vehicle

Your location

The limits you need

The drivers driving history
What is the Best Commercial Truck Insurance?
For commercial truck drivers in Texas, we offer a variety of insurance policies to protect you and your business. A licensed agent will craft a policy to fit your exact needs at an affordable rate. We also offer around the clock support for you and your business to make sure you are happy with your policy. Whether you need a certificate of insurance, helpful insurance tips, online claim forms, or more, we make it easy to make a claim any time during the day and access the
support you need
.
The Thumann Agency Specializes in Commercial Insurance
The Thumann Agency has been providing Commercial Trucking Insurance all over Texas for over two decades. Our agents can find the best Commercial Truck Insurance policy for your company at the most competitive rate. Our agents are also able to assist you with every aspect of your business insurance coverage needs. From property coverage to general liability to
commercial truck insurance
, we've got you covered. We'd love to assist you in finding the right policy and answer any of your questions! Give us a call today at (972) 991-9100.