Commercial Truck & Trucking Insurance in Texas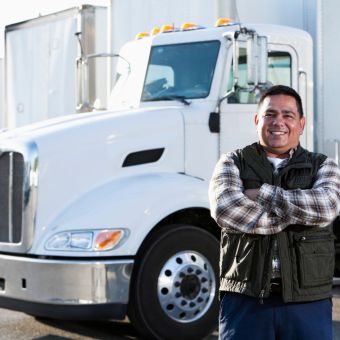 For over 20 years, Thumann Insurance has been providing Commercial Truck & Trucking Insurance for truckers throughout the entire state of Texas. We provide solid insurance policies from top-rated companies for your commercial trucking insurance needs. We can quickly tailor a package just for you that meets all of your specific truck and trailer needs while remaining squarely within your budget.
---
What Does Commercial Truck Insurance Cover?
Commercial Trucking Insurance in Texas is very similar to auto insurance in Texas. Policies are available with several types of insurance coverage to fit each trucker's specific needs. Commercial Truck Insurance policies are specially designed to protect your business and your personal assets. Thumann Insurance can provide you and your truckers with excellent coverage including:
Commercial Truck Liability Insurance
Commercial Truck Liability Insurance covers your liability risks if you or one of your drivers has an accident. Your policy will include bodily injury liability to cover the costs of any injuries and/or medical expenses for the injured party. You will also have property damage liability to cover the costs of any property damage resulting from an accident. Your Commercial Truck Liability Insurance will also cover the expenses of your legal defense.
Physical Damage Coverage
Physical Damage Coverage covers any damage to your vehicle from an accident or other incidents. It also includes comprehensive coverage that pays for damage from theft, vandalism, and non-collision causes. Physical Damage Coverage also includes collision coverage.
Uninsured Motorists Coverage
Uninsured Motorists Coverage covers any costs of damages and injuries to you or one of your employees when the other driver is at fault but has no insurance. This ensures that you, your truck, and your employees get the assistance you need - when you need it.
---
Types of Commercial Truckers Insurance
Commercial trucks involve several types of large vehicles, including:
Semis (tractor-trailers or 18-wheelers)

Dump trucks

Garbage trucks

Car haulers and auto trailers

Tow trucks

Flatbed trucks

Tank trucks

Box trucks
---
Cost of Commercial Truck Insurance
The cost of trucking insurance is determined by several factors. Including:
Your business type

Your driving radius

Your vehicle

Your location

The limits you need

The drivers driving history
---
The Thumann Agency Specializes in Commercial Insurance
The Thumann Agency has been providing Commercial Trucking Insurance all over Texas for over two decades. Our agents can find the best Commercial Truck Insurance policy for your company at the most competitive rate. Our agents are also able to assist you with every aspect of your business insurance coverage needs. From property coverage to general liability to commercial truck insurance, we've got you covered. We'd love to assist you in finding the right policy and answer any of your questions! Give us a call today at (972) 991-9100.
Have questions? Call (972) 991.9100
Related Article: Read Truck Insurance Facts, here.