Flood Insurance, Texas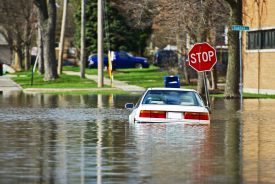 Protect Your Home With Texas Flood Insurance
FLOODS ARE THE #1 NATURAL DISASTER IN THE U.S.
You don't have to reside in a high-risk flood zone to be affected by a flood. Floods and flash floods can occur anywhere. Even just an inch of water can cause damage to your property. In fact, in the U.S., flood-related losses cost people more than a billion dollars a year.
In Dallas, the flooding problem is particularly severe along the banks of the Trinity River. Although the city has made many recent improvements in an effort to reduce the problem of surging waters and flood-related damages, the risk still exists.
---

What Does Flood Insurance Cover?
Flood insurance provides two types of coverage:
For the structure of the home itself

For its contents
You can opt to buy only one type of coverage, though most homeowners purchase both.
Most all flood insurance is written through the National Flood Insurance Program (NFIP), which is administered by the Federal Emergency Management Agency (FEMA).
IMPORTANT: A flood insurance policy will usually take 30 days from the date of purchase to go into effect. So don't wait until a flood is expected to buy a policy.
---
Flood Insurance Rates
The cost of NFIP-provided flood insurance is standard, and rates are based on how much coverage you purchase and whether or not you are in a high-risk flood zone. Preferred-risk policies start at just $130 a year and the average policy runs about $600 a year.
---

Get a Flood Insurance Quote & Protect Your Investment
If you have questions regarding flood insurance or are wanting to purchase a policy, contact the Thumann Agency for help. Our agents, many of whom live right here in Dallas, will help you understand your existing coverage, find alternative or additional, and provide you with a variety of Dallas flood insurance quotes.
---

I Don't Have Flood Insurance--Why Do I Need It?
Facts From the National Insurance Programme

FACT: Floods are the nation's most common and costly natural disaster and cause millions of dollars in damage every year.
FACT: Homeowners and renters insurance does not typically cover flood damage.
FACT: Floods can happen anywhere--More than 20 percent of flood claims come from properties outside the high-risk flood zone.
FACT: Flood insurance can pay regardless of whether or not there is a Presidential Disaster Declaration.
FACT: Most federal disaster assistance comes in the form of low-interest disaster loans from U.S. Small Business Administration (SBA), and you have to pay them back. FEMA offers disaster grants that don't need to be paid back, but this amount is often much less than what is needed to recover. A claim against your flood insurance policy could and often does, provide more funds for recovery than those you could qualify for from FEMA or the SBA--and you don't have to pay it back.
FACT: You may be required to have flood insurance. Congress has mandated federally regulated or insured lenders to require flood insurance on mortgaged properties that are located in areas at high risk of flooding. But even if your property is not in a high-risk flood area, your mortgage lender may still require you to have flood insurance.
---
Additional Resources:
View FEMA's Data Visualization: Historical Flood Risk and Costs