Roofers Insurance in Texas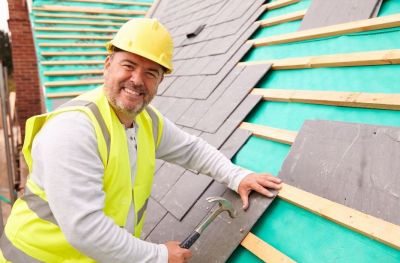 Protect Yourself And Your Business With Roofers Insurance
As the owner of a roofing company, you know that liability claims and employee injuries can be common in your industry, which means that to keep your business thriving, you must be covered by the appropriate roofing insurance policies.
When you work with the business insurance experts at the Thumann Agency in Dallas, we can customize your roofer's policy to ensure your most significant risks are addressed with reliable, adequate coverage. We serve all of Texas, including Dallas, Austin, and San Antonio.
If the unexpected happens and your roofing business is met with an expensive liability claim, you can sleep peacefully knowing that you will have the protection you need to spare your bank account from a crushing hit.
---
What Insurance Do I Need For My Roofing Company?
The specific roofer's insurance you will need depends on the nature of your business, whether you hire subcontractors or staff, and whether you work the entire year. The combination of coverage that makes up your roofing contractor's insurance portfolio should be designed to meet your specific needs.
Here's a quick look at five different types of business insurance coverage you may want to consider.
General Liability Insurance: This coverage can protect you from a variety of claims, including property damage, bodily injury, personal injury, and others that can arise from your business operations.
Professional Liability Insurance: Also known as Errors and Omissions (E & O Insurance). This coverage can protect you from the high cost of legal claims if advice or recommendations you provide, result in a loss to your customer.
Worker's Compensation Insurance: Workers' compensation insurance provides benefits to employees for injuries and illnesses arising out of and in the course of employment. And can provide lost wages if they can not continue working.
Contractor Equipment Floater: The Contractors Equipment Floater is designed to cover a broad array of equipment for small to medium-sized contractors. Covered items can range from the small, lightweight equipment up to heavy equipment.

---
How Much Will Roofer's Insurance Cost Me?
Unfortunately, there is no simple answer to this question. There are many variables to take into account when you are buying insurance. Companies will look at the size of your business, what kind of coverage you want, and what types of jobs you take on, be it residential or commercial. If you only do residential roofing, you won't need as much coverage as someone who does a great deal of large-scale commercial work.
---
How Long Will it Take to Get a Quote?
Your quote is just a phone call away. In most cases, we can have it ready for you in less than 3 minutes.
---
Why Choose the Thumann Agency?
We search for the absolute best coverage and rates available.

We have been serving roofer's, contractors, and construction companies across Texas for over 21 years.

Our customer service record is unparalleled.