Business Insurance in Houston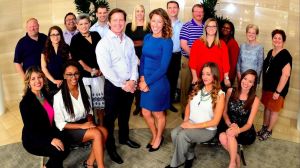 When shopping for Business Insurance in Houston TX, the Thumann Agency is here to help both large and small businesses.
Our experienced insurance agents will advise you on getting the right coverage for your business in case of employee injury, accidents, and natural disasters.
---
Average Business Insurance Cost in Houston
Small business general liability yearly annual cost: $450 to $16,000
Small business professional liability annual cost: $450 to $2,700
Health Insurance estimate: $450/individual to $12,500/family
These costs are estimates as it is impossible to give an average cost for all Houston business insurance policies, especially when each business has its unique set of risks and needs.
---
Types of Risks that Houston Businesses Face
Property damage from severe weather, accidents, and fire.

Product liability, accident and injury liability, libel, malpractice and professional liability or "errors and omissions" risks

Fraud, extortion, and embezzlement

Cyber-crime and data loss

To ensure you have the right commercial insurance in place our agents will evaluate a range of factors, including:
Your business needs
How you serve your customers
How many employees your company has
The materials or substances your business uses
Do your employees drive during their work time
The safety of your equipment, building, and processes
Your data security system

Starting your Houston business insurance quote could not be easier, contact one of our commercial agents at (972) 991.9100 or start your free online quote right now.
They will address each aspect of your business coverage to ensure that you have no gaps that could leave your business open to financial risk.
---

Types of Commercial Insurance Policies we Offer
Builders risk

Church insurance

Cyber liability

Contractors insurance

Commercial building

Commercial auto

Directors' and officers' liability

General contractor

General liability

Long haul trucking

Restaurant insurance

Workers comp
Depending on the kind of business that you own, you may want to consider providing group health insurance to your employees. Talk to an agent for more information.
---

Why it's Better to Work with an Independent Insurance Agent

Our experienced and knowledgeable agents will compare policies and quotes from multiple top-rated insurance companies to make sure you have the right protection in place.

---
Need Other Insurance?
Our experienced insurance agents are here to help you. Call (972) 991.9100 or start a free online insurance quote right now and one of our agents will be in touch shortly.