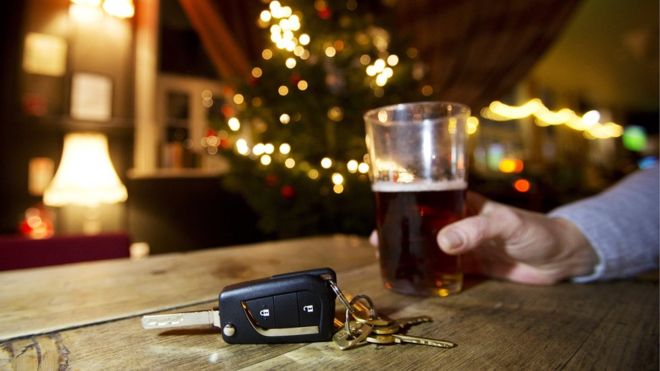 Christmas is a time of joy and celebration. The festive season, however, can also bring in painful moments for some. Drunk driving and DUI offenses have been dramatically increasing year on year during the holiday season starting from Christmas to New Year. While 32 percent of alcohol-induced traffic fatalities occur during Christmas, 36 percent of such accidents occur during New Year.
The Impact of drunk driving
According to the U.S. Department of Transportation 300 Americans, each year die during the holidays and 27 people on an average are killed every day in December from drunk driving incidents. Annually, 10,000 people are killed due to drunk driving.
In a survey, 16 percent of adults admitted to drinking more than usual during holidays, while 96 percent of adults say they went to work with a hangover after a holiday party.
In December of 2017, 885 people were killed in crashes from drunk driving and it is estimated that one-third of vehicular accident related deaths happen between Christmas and New Year.
Close to 100,000 drivers in the U.S. also lose their license for drunk driving. The holiday season is when people who normally do not drink tend to also indulge and those who habitually drink, tend to drink more. Hazardous winter conditions and slippery roads compound the problem, making Christmas a dangerous time to be on the roads.
Staying safe with the right insurance
No matter what the season or the reason, drinking and driving is never a good combination. Every individual is responsible for making better choices when it comes to driving while drunk during holidays. Drunk driving can impact the lives of other people who are sober and not at fault.
Apart from strictly avoiding drunken driving, protecting yourself with the right insurance can help minimize the devastating impact of dealing with vehicular accidents this holiday season. Looking for an insurance product after a car crash or a DUI conviction can mean paying higher premiums while some insurers can also amp up premiums for a no-fault claim.
It is best to be prepared with a comprehensive auto insurance to cover every contingency. The best providers of insurance in Dallas, Texas cover the following;
Collision coverage that covers expenses repair of vehicular damages incurred during a collision

Comprehensive coverage expands the cover to storms or thefts

Liability coverage that can help you bear expenses of treatment in case of injury or property damage

Medical payments coverage: If any of the passengers in your car were hurt or were killed, medical payments coverage helps cover funeral or medical expenses

Uninsured & underinsured motorist coverage is ideal to protect yourself when you are not at fault and the other driver who caused the collision does not have auto insurance

Contact the Thumann Agency for the right insurance solution this holiday season.